New generation of Sa vz. 58
26. 04. 2013
Our company was the first in the Europe that developed and successfully sells own airsoft gun since 2009. It is airsoft replica of the most used gun by Czech Army. It is Sa vz. 58…

We proved that we are not those who only promise. In the past many manufactures attempted to produce this gun, but unsuccessfully. We are the only ones who managed to launch and succesfuly sell of own product, which has found dozens of satisfied users. The first series was designed on the basic performance of about 120 m/s (394 fps). In the second generation due to many improvements we could supply this weapon to users with muzzle velocity about 150 m/s (492 fps) and the possibility of using the original folding stock, without limitation in battery location.
Second generation of Sa vz. 58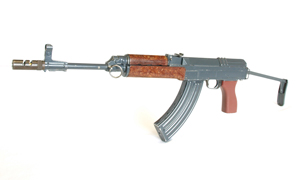 A weapon with a beautiful three years old look
We are currently developing the third generation of airsoft gun Sa vz. 58, which will contain additional upgrades while achieving muzzle velocity about 160 m/s (525 fps). We respond to the wishes of our customer, whose are inquiring surprisingly often, when the gun will be again on sale and where their wishes inspire us to think about further possible improvements.
However, a major problem in the production of airsoft gun in a civilized, democratic, central European, social and bureaucratic country is the price of the final product in small series production. Production and sale of goods in the social democratic European countries are burdened by high taxes. It should be therefore expected that the price will not be low.
Realistic details
Folding stock from real steel gun
Due to the text above we frankly and honestly say that mass production of the new generation Sa vz. 58 will start only in the case of real interest of you, airsoft players throughout the Europe. The second generation of weapons was ended with financial loss, and this, unfortunately, we can not repeat. It is up to you, buyers, if and when the new generation will be launched to sale.
Estimated price of a new generation was set at cca 23.000,- CZK (approx. 920 Euro) including VAT. Those who will make binding order and provide a deposit of 7.000,- CZK (approx. 280 Euro), will receive a 10% discount from the retail price of gun. We believe that this offer is very interesting. Sure, proforma invoice will be issued for this amount and in case of any problems and complications, or in case that serial production will not be started, we'll return the amount back.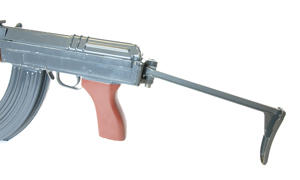 Folding stock can be exchanged for a fixed stock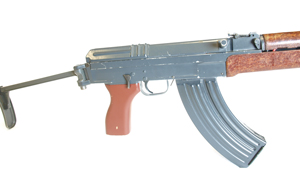 Real functional selector lever
The first scheduled batch should be a maximum of 30 pieces of guns and could be completed in July/August in this year. The next batch will be planned according to sales success. And again we say frankly that if there is no interest, we will definitely stop production, hide plans into safe and finally end the case of Sa vz. 58.
Airsoft guns Sa vz. 58 are fitted with best upgrade parts made by SHS since the second generation. Their performance and durability are very well, which may be confirmed by current users. The gun is manufactured by machining of aluminum and steel, so it is very strength and robustness and has no rival in other guns. Of course there is compliance of compatibility with various accessories that are used for real weapon. There is no problem to mount different types of grips and stocks, RIS mounts and flashiders. Many of the external parts are originated from real weapon which gives the appearance of a real gun. Sa vz. 58 will be supplied with one magazine and with a folding and fixed stock.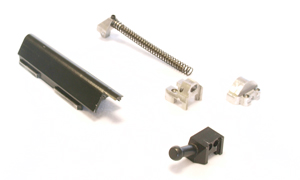 All parts are completely machined on CNC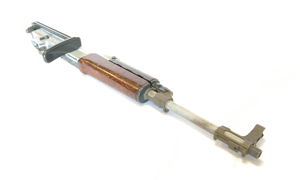 Part of weapons coated with a primer
So please be aware that we produce airsoft gun which does not compete with low-cost china gun or common weapons, which are mass produced in China or Taiwan. We decided to take the path of quality and this is reflected in price. In any case, we will not allow quibbling about various discounts for future sales. For quality is simply need to pay, and who is not willing he must settle with conventional airsoft guns.
If you are interested, you can read about our first series gun or look at an item in our catalog, where is sold out airsoft gun from the second generation.
For some additional questions or comments please use comments button on this article. In case of pre-order, please send e-mail it to prodej@airsoftguns.cz.
Below you can see the actual status of planned series and binding pre-orders:
6 pcs reserved; 24 pcs available
AirsoftGuns.cz
Komentáře
Zatím nikdo neokomentoval.
Přidávat komentáře mohou pouze přihlášení uživatelé. Přihlásit se